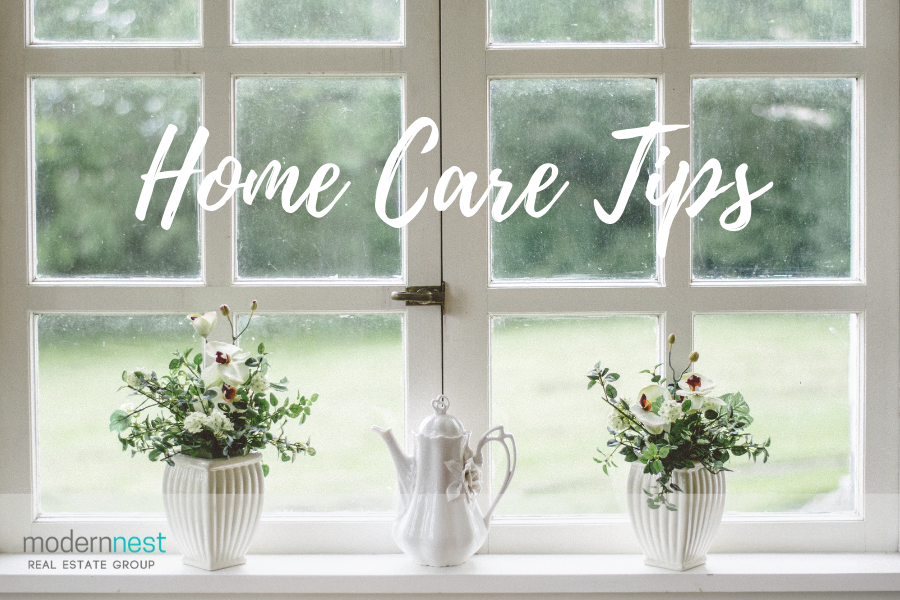 Boxes are unpacked, furniture arranged, pictures on the walls and your refrigerator is stocked with food, now it is time to think about how you will keep your new home in exceptional condition. Just like your car, a home requires regular maintenance to ensure everything continues to operate like it is intended to. Recurring maintenance checks are vital to preventing small problems from turning into a more significant, expensive issue.

If you purchased a new home, your home probably came with a one year warranty but don't make the mistake of assuming that the warranty will cover any problems you have with your home. Most warranties apply only to the workmanship and materials and not the issues that arise because proper maintenance has not been completed.
If you purchased an older home with a one-year homeowners warranty, read the policy carefully for the details of what is covered vary from policy to policy. Generally, a basic home warranty covers systems including heating and cooling, plumbing, electrical and appliances. Warranty companies require that you perform regular maintenance on these appliances and systems. If something stops working as a result of improper maintenance, it likely will not be covered by the terms of the warranty.
Now that we have established that maintenance is critical even if you have a home warranty let's dive into the details of what needs to be maintained and how often. Most routine maintenance tasks are straightforward and evident like keeping your home clean. Not only is dust and dirt unpleasant to look at, but it can also cause damage to finishes and surfaces from everything to countertops to tiles to toilets. Dust can also create your smoke or carbon monoxide detector to malfunction. Make sure to clean your detectors regularly as well as change the batteries.
Various other standard maintenance can be performed twice a year with the changes of the seasons. Make a checklist of the tasks and attach to your calendar to remind yourself to complete the tasks. Such responsibilities include replacing weather stripping and caulking around doors and windows, check screens for tears and clean and repair them, clean leaves and debris from gutters and drain pipes, check the roof, flashing around vents, skylights, and chimneys for leaks. Inspect the siding of your home for cracks or holes and peeling paint. Not only will repairing the holes in the siding with caulk or painting peeling spots improve the appearance of your home, but it will also prolong the life of your siding.
Interior maintenance is just as important as the exterior. One critical item that requires regular maintaining is the filters on your heating and air conditioning units. They may need to be cleaned or changed as often as every month to remain effective. Another vent to regularly maintain is the vent hose to your dryer which can quickly build up a collection of dust and lint and could cause a fire.
Furnaces, boilers and your HVAC (heating, ventilation and air conditioning) units should also checked regularly to ensure that they are dust free, rust free and any wires are adequately protected from any environmental elements. Check the air filters every month to help keep energy costs down.
Below is a useful checklist of everything you should do as part of your home's routine maintenance plan.
Perform these maintenance checks at least twice a year to keep your home functioning efficiently and looking its best:
Exterior:
Clean leaves and debris out of gutters and drainpipes to prevent water from backing up.

Trim any tree branches that are hanging over the house that could cause damage during a storm. They may also be dropping leaves into the gutters or causing mildew problems by shading the house.

Check for leaky faucets and leaks in the roof, chimney or around skylights.

Fill cracks and holes in the exterior siding with caulk, repaint peeling spots and remove any vines growing on the house.

Check screens and storm shutters. Use the opportunity to repair any tears.

Seal drafty doors and windows.
Interior
Check the foundation and basement walls and floors for dampness.

Change or clean filters and vents in heating and air conditioning systems, dryers and fans as often as needed.

Make sure the refrigerator and freezer door seals tightly, clean coils.

Clean fireplaces after winter use, check for loose or missing mortar.

Drain the hot water heater and remove sediment from the bottom of the tank in the fall.

Clean the humidifier in the fall and the dehumidifier in the spring.

Test smoke and carbon monoxide detectors and replace their batteries as needed or at least twice a year.

Inspect the water hoses on the washing machine, dishwasher and refrigerator icemaker for cracks.

Vacuum and dust your home regularly to prevent dirt from damaging the finishes on your countertops, cabinets, floors, sinks, tubs, toilets, tiles and other surfaces.

Check your furnace or blower for rust and signs of corrosion.

Hire a professional to check your gas appliances and furnace once a year. An expert may find things you wouldn't catch that could prevent a severe problem from developing.