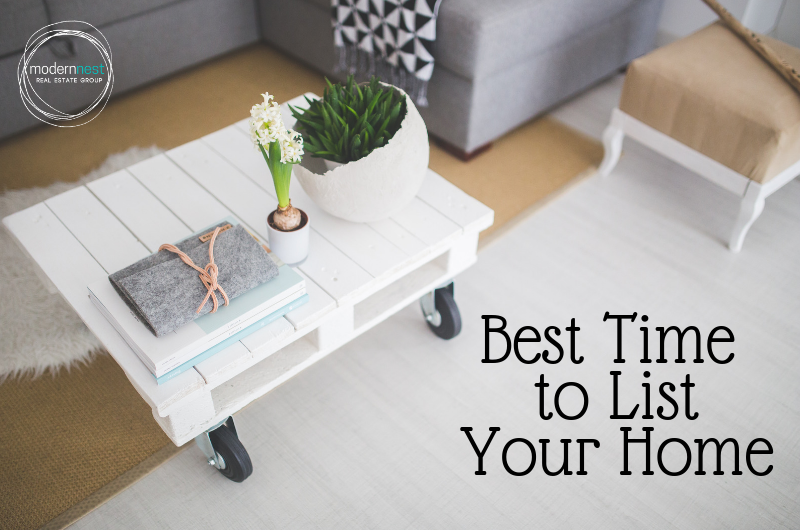 A lot of decisions go into selling your home, and it can be a tumultuous time filled with important decisions. What real estate agent do I use? Do we need to make any home improvements? Do we need to have an open house and what about the numerous showings that will be booked? But one consideration a lot of people overlook is how the time of year can affect the sale of your home. Home buying does have a history to be highest in May, but that may not be the best time to list your home. There are a lot of factors to take into consideration to ensure the sale of your home is timely and financially prosperous.

You will find that most research shows that if you want a speedy sale of your home, the best time to place your home on the market is spring through the beginning of summer. The reason late spring to early summer is the most affluent time to sell a home is that most families with children want to finish out the school year in their current school district before switching to a new one. This time of the year also has favorable weather for the outside of your home with all of the beautiful flowers, green grass, and attractive landscaping. A backyard with a swimming pool always looks better with blue skies then dead brown leaves.
While late spring to early summer tends to be the best period in which to sell your home, there is a specific month that is more strategic. May, specifically the first two weeks of May, have the fastest sale with an average of 18.5 days and often for a marginally higher asking price.
But as we know, there are exceptions to every rule. While May typically gives you the highest odds of selling your home the quickest and at the best value, your likelihood for a quick sale can be affected for other various reasons.
Climate: if your home is located in Southern Texas where summer seems to last all year, you may be able to benefit from the weather much earlier than someone selling their home in Wisconsin. Adjust your selling window according to the most productive outdoor climate.

Location: A home in a growing metropolis such as Grand Prairie, Texas will have more potential buyers than a house in a more desolate area such as Marfa, Texas. If your home is off the beaten path, consider listing your home earlier or plan for a longer listing time.

Competitive Market: Amid a housing crunch, some housing markets are much more aggressive than others. This may mean that you may have to jump the gun and list your home earlier to beat out other listings. In highly competitive markets, you are more than likely to have success during the off-season since zealous buyers are abundant year round.

Supply and Demand: The amount of houses does dramatically increase every spring, BUT that does not mean winter is a wrong time to sell. Buyers in the winter months are truly motivated purchasers, and they want to buy now, and with limited inventory available, sellers are in a great position to demand higher prices.
The best time to sell a home really varies from market to market. You may want to examine this map which gives by metro area the smartest time to sell a house but don't use it as your only resource. Do a full analysis of the market. Although research dictates that May is the best time, don't rule out the winter months when the supply is low, and the demand still exists.